Rechargeable Solar Battery System for Your Home
Reliable energy when you need it most.
Generate, store, and manage clean, affordable solar energy on your terms. With Tesla Powerwall/Enphase/ Generac, your home comes full circle. Tesla Powerwall/Enphase/ Generac is more than just solar battery storage—it's a holistic service that puts the power in your hands. We only partner with top-notch innovators in lithium-ion battery technology, so you're backed by the highest quality products available. Tesla Powerwall/Enphase/ Generac is currently available to new Simple Power solar customers only.
Why We're Different
Sunrun helps you go solar and finds the back-up options that best fit your needs.
Back up What You Want
Our solar-powered batteries are best-in-class. Choose to back up your whole home with Tesla Powerwall, Enphase, or Generac.
Choose Your Solar Plan
Our customized plans give you the financial flexibility you need. Choose from multiple lease, financing, and cash options.


Superior Service
We're with you every step of the way. From finding the right solar plan to monitoring your solar system, Simple Power safely sees you through your solar journey with our Solar Guarantee. Go solar virtually with no in-person contact.
Reliable energy when you need it most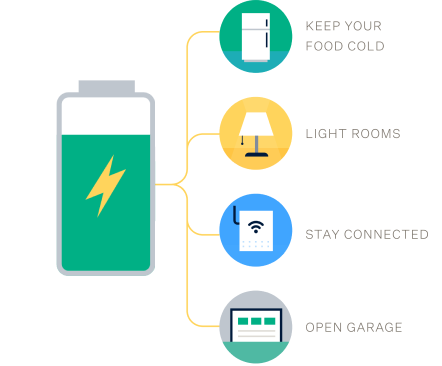 Keep the power on during outages
Best-in-class solar panels and batteries
Monitoring and Maintenance
Learn about the 30% federal tax credit
Frequently Asked Questions